Creating a Castle in Blender Part 1
Written By: Jahnu Best on January 14, 2012
No Comment
Hello people …
I have not made a tutorial for like five months! I have been doing a lot of traveling (already traveled more than halfway around the world) so I have been busy, but now that I am settled in Belgium for a month more, I feel that I can start more tutorials now.
So here's the new tutorial: Creating a castle in Blender. It's a pretty simple idea, so even if you can't grasp the tutorial, you should be able to grasp the idea.
Also, because of my lack of tutorials, next week will be called "Depth of Field Week" – I will be creating tutorials that involve a lot of depth of field. Hope you will like the tutorial and the upcoming ones as well. Part 2 of this tutorial, finishing up this scene, will be completed soon, as well.
Also note here that the renderer here is Cycles.
You will learn how to model the castle easily, using cylinders and cubes
Important tips for modeling the castle
Create the sand
Feel free to grab the reference picture here.
Finished result and clay model: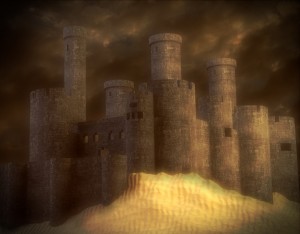 Hope you liked the tutorial!